Stallions ~ Mares ~ Foals ~ Rescue & Rehab ~ Sales List ~ Links ~ Contact Us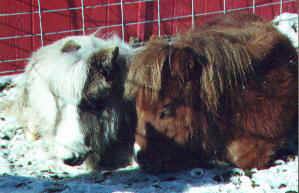 Welcome to our web site!
We offer, for sale and at stud, quality AMHA/AMHR registered Miniature horses with the popular bloodlines of today. Striving for correct conformation and great NATURAL action, we have many beautiful horses of all colors. We also have Navajo Mustangs/American Indian Horses, Quarter Horses, Paints and Arabians. We also offer rescue and rehab to equine friends in need.
American Indian Horses: The Navajo Reservation seems to hold a very special type of mustang unlike any others... These horses are very isolated and protected, to a point, depending on the value the family places on them. I have been able to pick up a few via local horse traders and rescue efforts. These little horses are very hardy, sturdy and handy... the conformation of many is of Lusitano, Andalusian and Barb type. (See Sophie and Cinder)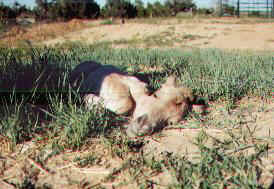 American Horse Slaughter Totals for 2001 This total excludes the week of Christmas and New Years and excludes live shipments out of the country... totals will be updated as we get final counts. 55,193 horses and ponies were slaughtered in the U.S. in the year 2001.

This page was last updated on 04/24/03.
Copyright © 2001-2003 Hollyberry Farm & Rescue
---
Links
The Land of Enchantment Miniature Horse Club
KBR Wild Horse and Burro Information
American Miniature Horse Association Official Web Site
American Indian Horse Registry
G & G Miniature Horses
Ruffsong Ranch Quarter Horses

Free search engine submission and placement services!